Have you ever noticed that some websites are so beautiful and professional that they give off a very high-end image?
You know what I'm talking about when I say that.
This is the image that these websites have cultivated. It's this image that keeps the clients coming back for more. That is what is called web design.
Most businesses tend to hire web designers, but most of them don't know the importance of web maintenance and how it can benefit them.
This article explores why you should pay attention to website maintenance as well as pay a web maintenance company (that provides web design services too) to do website maintenance services for your business.
What is website maintenance?
Put simply, website maintenance is a process of performing tasks to keep websites up and running.
With new technology comes new problems. And with all that newness comes the need to keep the site running smoothly and quickly.
Website maintenance is all about monitoring the health and performance of your website. It helps ensure the website is working well, is secure, and more importantly engages your website visitors.
While updating new content is part of the process, it requires more than just adding some fresh content. You need to monitor and tweak the site so it performs efficiently and quickly.
Why is website maintenance important?
Website maintenance has become a big deal for online businesses.
This involves all kinds of transactions such as making payments through online payment systems, shopping online, and ordering items.
Here are some top reasons why you need to spend time maintaining your website.
1. Your website is the main selling point for your business
If your website isn't maintained well and is lagging, visitors won't stay long and may even leave before purchasing anything. If you want to attract more customers to your company, you must keep your website up-to-date.
2. Your website affects SEO performance
Outdated information and content adversely affect your SEO performance.
Google constantly updates its algorithms to improve its search engine performances and reflect current industry changes and trends to provide the most relevant and updated information to its searchers.
It is vital therefore to update information on your products and services and provide fresh content regularly so that you do not lose out to your competitors.
3. Keep up with changing web design trends 
Web design trends have been changing. One web design that worked well five years ago may not appeal to your target audience now.
Consumer expectations have changed the way business owners operate, and also the way websites are being built and designed to meet the growing demands of consumers.
You want to make sure you provide the best user experience (UX) for your site visitors and regularly review it to meet the changing expectations.
Website maintenance is thus very similar to maintaining any sort of physical structure.
There's a lot of upkeep involved.
Think about your house or about your car; how much maintenance goes into it?
Your website is an extension of your business; just as you wouldn't leave your car outside for weeks on end if it wasn't maintained, you shouldn't leave your website outside for weeks on end if it isn't maintained.
What does website maintenance involve?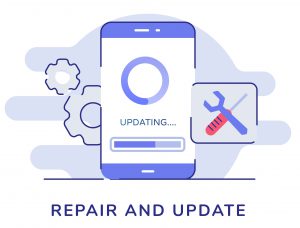 Website maintenance is an important part of any business that relies on the Internet for generating sales or leads.
Website maintenance is an ongoing process.
Every day that you don't regularly maintain your site is a day that you lose business and opportunities to potential customers.
It involves all the steps involved in keeping a website functioning optimally.
Regular website maintenance includes:
• Testing your site for compatibility with new web browsers and operating systems
• Ensuring that your site loads fast and efficiently
• Updating links and content on your site
• Keeping track of errors that occur on your site
• Performing regular system and security scans
On top of performing routine checks for any security vulnerabilities, identifying and fixing bugs or broken links, and keeping the site updated with the latest features and content, it is also vital to ensure your site is mobile-friendly.
It's not just a matter of keeping up with updates, though.
You need to keep an eye out for anything that may jeopardize the performance of your site, as well.
How often do you need to conduct website maintenance?
You may be asking, how frequently should you conduct website maintenance?
Many website owners think that site maintenance is something that only needs to be done every month.
But it depends on the amount of website traffic you receive, and the types of updates and changes you need to make (such as new content or products).
A website that gets more traffic will need to be maintained more regularly as there is a higher chance of things going wrong.
In general, it's a good idea to check your website every month for any errors or mistakes. Fix them as soon as you notice them and keep up with monthly maintenance.
If you have a busy website with lots of changes happening regularly, then you may need to do maintenance every week or even every day.
There's no such thing as "too much maintenance," but if you perform regular maintenance tasks, your website will perform better and be less likely to break.
Why hire a website maintenance company?
If you haven't thought of hiring a website maintenance company before, don't wait to get started.
There's no reason to keep doing it yourself when you can easily hire someone to do it for you.
While the cost can seem intimidating at first, website maintenance is not nearly as expensive as you may think.
It's easy to hire an expert to make sure your website is up and running smoothly, and ready to handle the next round of visitors.
We all know that having a website is an absolute must, but what most of us don't realize is that a website can become obsolete if not maintained properly.
A website that is not updated regularly, or even maintained at all, is a major turnoff to potential customers. It gives the impression that the business owner doesn't care about his customers or their business.
Outsourcing website maintenance to a web maintenance company will guarantee that you have a working site that meets your requirements.
What are the costs of website maintenance?
The costs of maintaining a website depend on several factors such as the website's platform, features, and services that contribute to your overall maintenance cost.
For example, a large eCommerce website such as Amazon has a higher maintenance cost than a small portfolio site or personal blog.
The table below is a breakdown of the different average monthly website maintenance costs: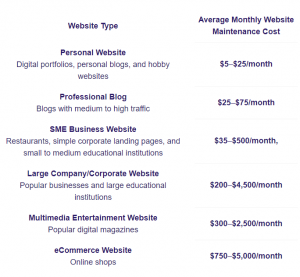 You may have to consider the additional cost of hiring external help for various components such as digital marketing and SEO, to keep your website competitive.
Some of these external vendors include a web designer, digital marketer, copywriter, and even an SEO specialist.
How to choose a website maintenance company?
Many website companies are offering a variety of services. It may be daunting to go through the sea of options to choose the one that fits your requirements.
Here are some tips to get started.
1. Hire someone who knows what they are doing
Ask for referrals, and always conduct a proper screening process. If you're not comfortable with a potential candidate, don't hire them.
Look through their experiences and portfolio to decide if the company fits your needs.
2. Be wary of any company promising cheap SEO services
Companies offering cheap SEO services often put your site on page one of Google using black hat methods, but they'll be gone in no time at all.
Always remember that you need to hire a trustworthy company.
3. Have a clear understanding of what is being promised
Make sure the company understands your needs and goals and that they can fulfill those. You need to have a clear understanding of what they promise to deliver and can deliver on time.
Why choose Websparks as your website maintenance company?
Websparks is a full-service web company and agency based in Singapore.
We offer website maintenance services as well as website support, website development, and web design services.
Websparks believes in offering holistic and value-for-money services, providing high reliability and instant support required by our clients.
Many existing clients attest to our high levels of web and application maintenance services with high accolades and contract renewals.
Interested in our services?
Contact us to develop and maintain your websites.