Information security is a priority for Websparks. Websparks is certified to the ISO 27001 standard.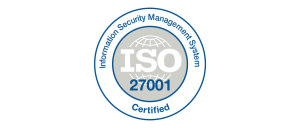 ISO/IEC 27001:2013 (ISO 27001) is an international standard that helps organizations manage the security of their information assets. It provides a management framework for implementing an ISMS (information security management system) to ensure the confidentiality, integrity, and availability of all corporate data (such as financial information, intellectual property, employee details or information managed by third parties). It applies a risk management process which means organizations can manage risk.
What is ISO 27001 and why is it important
ISO/IEC 27001:2013 (also known as ISO 27001) is the internationally recognised standard for an information security management system (ISMS). It is the latest version of the security standard published in 2013.
ISO 27001 is the leading standard focused on information security, published by the International Organization for Standardization (ISO), together with the International Electrotechnical Commission (IEC).
ISO 27001 standard provides a framework for any organization of any size to protect their information through implementing an ISMS.
This leading standard is very popular worldwide due to its international reputation. According to IT Governance, a leading global provider of cyber risk and privacy management solutions, the number of ISO 27001 certifications has grown by more than a whooping 450% in the past decade.
It is important to be ISO 27001 certified so that you can gain the confidence and trust from relevant stakeholders and customers. It shows them that your organization is serious about information security.
What does it mean to be ISO 27001 certified
Being certified with a respectable ISO 27001 standard demonstrates to your existing and potential customers or clients that you have built an ISMS capable of data protection.
An ISMS comprises of:
hardware and software used for information security,
rules on how you use, store and retrieve information
how you assess and mitigate information security risks and
how you improve information security continuously
In order to be ISO 27001 certified, your ISMS needs to be audited and assessed if it meets the requirements of the standard.     
What does this mean for our customers?
The ISO/IEC 27000 family of standards help organizations keep information assets secure. The 27001 standard is the best-known for establishing, implementing, maintaining and improving an ISMS. It ensures the confidentiality, integrity, and availability of information that organizations control and process. And it applies a risk management process which means organizations can manage risk.
This certification demonstrates that our ISMS complies with international best practices. It shows our commitment to protecting your information. And it reinforces our focus on maintaining industry-leading security programs and practices.
The benefits of working with us include:
Risk management – An ISMS helps govern who within an organization can access specific information, reducing the risk that said information can be stolen or otherwise compromised.
Information security – An ISMS contains information management protocols detailing how specific data needs to be handled and transmitted.
Business continuity – To remain ISO 27001 compliant, a service provider's ISMS must be continuously tested and improved upon. This helps prevent data breaches that could impact your core business functions.
Benefits of ISO 27001 certification
There are many benefits of getting an ISO 27001 certification.
Gain credibility
Retention of existing customers is higher while new customers or clients are more likely to come to you too as you gain credibility from the certification. You may also win over clients or customers who used to be hesitant to purchase from you or work with you.
The return on investment (ROI) from an effective ISMS can be high and hence more attractive especially when you have an ISO 27001 ISMS that stakeholders can trust.
Improve company culture
As ISO 27001 involves people not just processes and technology, your staff will be involved and challenged to embrace information security as part of their working ethics. Your employees will feel they are contributing to something important and of value.
SVM Cards Europe was quoted in a British Standards Institution (BSI)'s case study:
"Taking a standards-based approach to information security has changed the way we work as an organization, supporting our business growth whilst allowing us to keep our core values."  Cordelia Maden, Talent Manager CVM Europe
Increase cyber resilience
An ISO 27001 ISMS requires your organization to be adaptable to the highly evolving cyber landscape and make constant adjustments to your security measures.
Conclusion
Being ISO 27001 certified ensures trust in your information security systems and helps minimise risks of potential cybersecurity attacks in the long run. As mentioned at the beginning, Websparks is a certified ISO 27001 company, you can be assured that your work with us is 100% safe.